The Duram Escape Mask is an emergency evacuation mask you can carry in your pocket, designed to provide respiratory protection as well as reduce the health risk and mortality rate associated with the inhalation of toxic air caused by fire, smoke, carbon monoxide (CO), chemical leakage or Chemical/Biological attack.
Learn More
Compact Escape Mask
A personal emergency device for short-term respiratory protection during escape from situations involving hazardous and toxic air. For private homeowners, hotels, high-rises, hospitals, ships and aircraft.
The Duram Maskito is the perfect protection against smoke and gas emergency events. The Duram Maskito is easy to use and within seconds it provides full protection of the face, eyes and the respiratory system. A must have to anyone – in the car, in the workplace or at home.
Description
FEATURES
Pocket-size.
Don within seconds. No adjustment straps.
One size fits all.
Strong, fire-resistant, elastic rubber hood, protects the entire head and seals comfortably at the neck.
Large visor, made of flame-retardant transparent film, allows a wide field of view.
High-efficiency, electrostatic particle filter, with extremely low pressure-drop to allow easy breathing.
Layers of activated charcoal with special impregnation to absorb toxic gases.
Training model available.
Available in two colours: yellow and black.
TECHNICAL
DATA Hood:
Special Polychloroprene Latex Compound
Elongation at break: > 700%
Tensile strength: > 150 kg/cm²
Temperature resistance: 200°C
Fire-resistant to the requirements of NFPA 701
Visor:
ETFE film – a copolymer of Polytetrafluoroethylene with Ethylene monomer.
Tensile strength: 50N/mm²
Elongation at break: 450%
Tear resistance: 500 N/mm
Temperature resistance: 150°C
Flame retardant : UL 94 V-O
Light transmission: > 95%
Breathing Device:
A device combining two valves for inhalation and exhalation, all in one.
Filter Assembly:
Multi-Layer filter includes the following:
External polyester screen, fire resistant to the requirements of NFPA 701
Electrostatic particle filter
A layer of activated charcoal cloth with impregnation against acid gases
Soft inner pad of non-woven material
Filter Performance:
| | | | |
| --- | --- | --- | --- |
| Test Gas | Challenge Concentration (ppm) | Flow Rate (l/min) | Time to Breakthrough |
| Hydrogen Chloride (HCI) | 1000 | 20 | 60 min at 5 ppm |
| Hydrogen Cyanide (HCN ) | 400 | 20 | > 40 min at 1 ppm |
| Nitrogen Dioxide (N02) | 200 | 20 | > 25 min at 5 ppm |
| Sulphur Dioxide (S02) | 150 | 20 | 25 min at 5 ppm |
Particle Penetration:
Meets EN 143 P2.
Pressure drop at 20 lit/min: 0.06 mbar
Storage and carrying:
The mask folds so that it can fit in an eyeglass case, can be carried in a pocket or handbag.
Approximate (package) dimensions: 13 x 6 x 2.5 cm
Approximate (package) weight: 130 gr.
Sectors
Hospitals & Nursing homes
Hotels
High-rise office / Residential developments
Transportation – ships, cruise liners and aircrafts
Security organisations
Accessories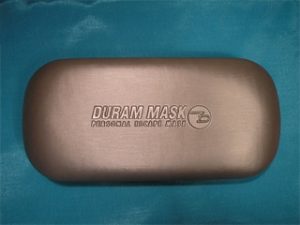 Cases and pouches for the storage of Duram Emergency Escape Masks.
Duram Maskito – Hard Case
Mini hard case for the purse – protects the Maskito Mask and elegant.
---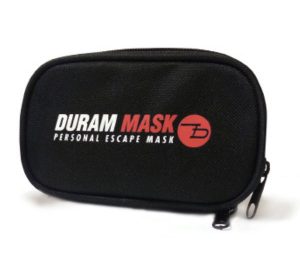 Cases and pouches for the storage of Duram Emergency Escape Masks.
Duram Maskito – Mini Pouch
Belt-mount pouch for Duram Maskito mini mask.