The Duram Escape Mask is an emergency evacuation mask you can carry in your pocket, designed to provide respiratory protection as well as reduce the health risk and mortality rate associated with the inhalation of toxic air caused by fire, smoke, carbon monoxide (CO), chemical leakage or Chemical/Biological attack.
Learn More
Chemical Escape Mask (ABEK2)
Short-term respiratory protection in incidents involving high concentrations of chemical agents, such as industrial chemical spills. The mask allows users to swiftly evacuate themselves in emergency situations involving hazardous materials.
The KIMAX protects against organic gases with a boiling point higher than 65ºC; several inorganic gases; sulfuric gases and other acidic gases, ammonia and ammonia derivatives. It also protects against such chemicals in particle form. The KIMAX contains EN 13487: 2004 approved A2B2E2K2 gas filters with electrostatic particle filtration P2.
Meets the CE Mark, EN14387 and ABEK 2 requirements.
Description
Easy to use
Dons within seconds.
No adjustment straps
One size fits all
Strong, fire-resistant, elastic rubber hood, protects the entire head and seals comfortably at the neck
Large visor, made of flame retardant transparent film, allows a wide field of view
A unique breathing device (patent pending), enables rapid exhalation and improves the physiological conditions for the user, preventing built-up of heat or vapour inside the mask
A high filtration level: ABEK 1 Gas Filter and low pressure P3 electrostatic particle filter
Training model available
SECTORS
Mining, oil and gas
Chemical and petrochemical
Transportation
Defense/ Law enforcement agencies/ Emergency services
Accessories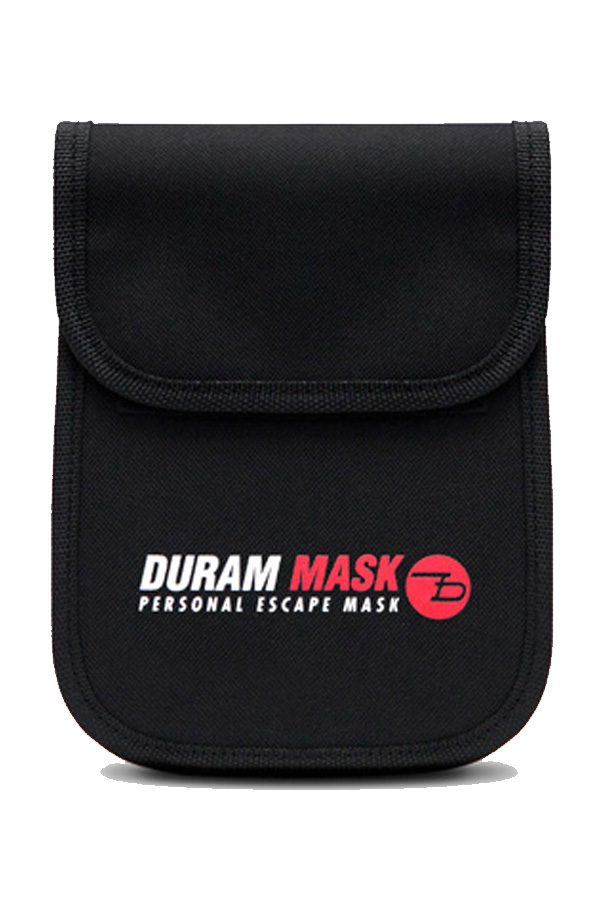 Cases and pouches for the storage of Chemical Escape Mask (ABEK2).
Duram KIMAX