The Duram Escape Mask is an emergency evacuation mask you can carry in your pocket, designed to provide respiratory protection as well as reduce the health risk and mortality rate associated with the inhalation of toxic air caused by fire, smoke, carbon monoxide (CO), chemical leakage or Chemical/Biological attack.
Learn More
Chemical Plus Escape Mask
A personal emergency device for short-term respiratory protection during escape from an area of a chemical spill.
Meets the ABEK 1 requirements.
FEATURES
Easy to use.
Dons within seconds.
No adjustment straps
One size fits all
Strong, fire-resistant, elastic rubber hood, protects the entire head and seals comfortably at the neck
Large visor, made of flame retardant transparent film, allows a wide field of view
A unique breathing device (patent pending), enables rapid exhalation and improves the physiological conditions for the user, preventing built-up of heat or vapour inside the mask
A high filtration level: ABEK 1 Gas Filter and low pressure P3 electrostatic particle filter
Training model available
Description
TECHNICAL DATA
Hood:
Special Polychloroprene Latex Compound.
Elongation at break > 700%
Tensile strength > 150 kg/cm2
Temperature resistance: 200ºC
Fire resistance as per the requirements of NFPA 701.
Visor:
ETFE film – Copolymer of Polytetrafluoroethylene + Ethylene monomer
Tensile strength: 50N/mm2
Elongation at break: 450%
Tear resistance: 500 N/mm
Temperature resistance: 150ºC.
Flame retardancy: UL 94 V-0
Light transmission: > 95%
Breathing Device:
A device combining two valves for exhalation and inhalation + a soft mouthpiece, all in one unit.
Filter Assembly:
Two canisters containing:
ABEK1 Gas Filter
Electrostatic HEPA P3 particle filter
General:
Approximate (package) dimensions: 6.5x12x14 cm
Approximate (package) weight: 400 gr.
Filter Performance:
Type/ Class

Test Gas or Vapour
Test Gas concentration
ppm by volume
Breakthrough conditions
Breakthrough concentration
ppm by volume

Breakthrought
Time (minutes)
A1
Carbon tetra-chloride (CCl4)
1000
10
80
B1
Chlorine (Cl2)
1000
0.5
20
Hydrogen Sulphide (H2S)
1000
10
40
Hydrogen Cyanide (HCN)
1000
10
25
E1
Sulphur Dioxide (SO2)
1000
5
20
K1
Ammonia (NH3)
1000
25
50
Filter Efficiency: 99.997%
Flow Rate (LPM): 30
Sector
Mining, Oil and Gas
Chemical & Petrochemical industries
Civilian institutions
Transportation – ships, cruise liners and aircrafts
Defense/ Law Enforcement Agencies/ Emergency services
Accessories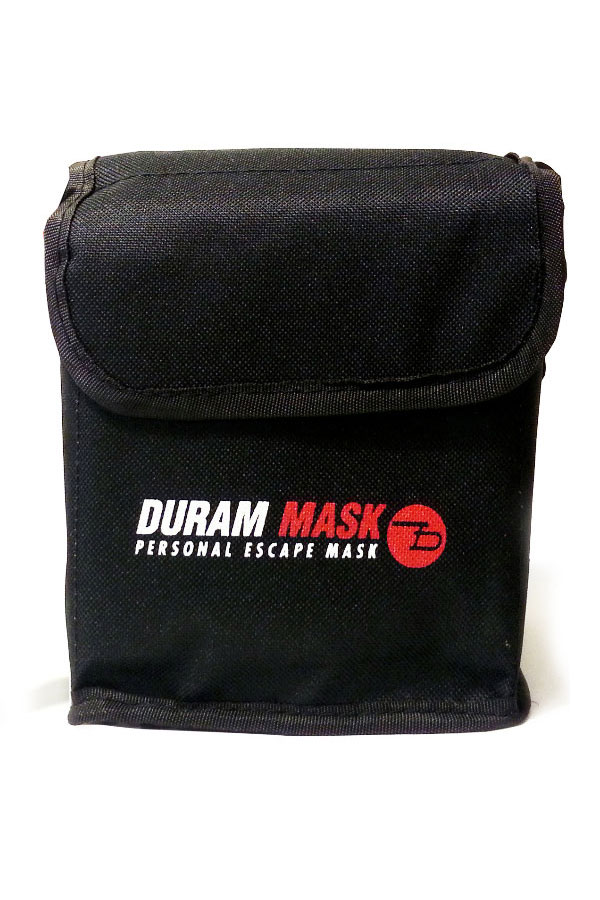 Cases and pouches for the storage of Duram Emergency Escape Masks.
Duarm KIMI Plus Pouch
Belt-mount pouch for Duarm KIMI Plus mask.